Car Paint Protection in Hoppers Crossing & across Melbourne—Auto TintGard
Auto TintGard offers top-tier paint protection services in Hoppers Crossing & other Western Suburbs Melbourne. To protect and preserve the value of your car, investing in high-quality paint protective film is recommended. While low-quality solutions may appear to be more affordable, they lose their properties over time. As a result, you will incur more costs in the long run.
By selecting a superior paint job protection film, you can be confident that it will last for many years. To keep your car looking its best, we use the most advanced car interior protection materials. It is this dedication to delivering the best results that sets us apart from our competitors.
Our Process of Installing Paint Protection Film on Your Car
When it comes to applying paint protection film in Hoppers Crossing & across Melbourne to your vehicle, we follow a meticulous process to guarantee a perfect finish. Our experts ensure that the final result is flawless and meets your expectations. As such, it will continue to provide enhanced protection even in the face of everyday wear and tear.
Surface Preparation: Before applying the car protection film, our skilled technicians clean and prepare your car's surface. This step ensures that no imperfections are trapped beneath the film.
Precision Cutting: We use state-of-the-art technology to precisely cut the film to fit your car's specific make and model. This custom fit ensures seamless coverage.
Careful Application: Our technicians expertly apply the film, making sure it adheres evenly. We pay special attention to edges and curves for the perfect finish.
Curing Process: The paint protection film then undergoes a curing process. This ensures it bonds securely to your car's paint, providing long-lasting protection.
Quality Check: We perform a final quality check to make sure every inch of your car's surface is protected. Our commitment to using high-quality car paint protection film combined with our precise installation process ensures your car receives the protection it needs.
The Products We Use for Automotive Paint Protection
We use only top-notch products to safeguard your vehicle's paint. This aligns with our aim to deliver nothing less than the best for your vehicle's paint. Gtechniq, known for its advanced coatings, offers long-lasting protection against environmental contaminants. When it comes to auto paint protection, we trust these industry-leading products of Gtechniq:
Crystal Lacquer: This product enhances your car's shine and provides a protective layer that repels dirt and grime.
Crystal Serum Light: Providing exceptional durability, Crystal Serum Light keeps your car looking new for years.
Crystal Serum Ultra: For ultimate protection, Crystal Serum Ultra provides unparalleled resistance to the elements and scratches.
The Significance of Interior Car Protection
Car interior protection is often underestimated, but it plays a crucial role in maintaining your vehicle's overall condition. We value the importance of auto interior protection and offer comprehensive solutions to keep your vehicle's interior looking its best. Do not underestimate the impact a protected interior can have on your car's value, comfort, and overall enjoyment. Protecting your car's interior is essential for several reasons:
Preserving Value: Proper interior protection helps retain your car's value. When potential buyers see a well-preserved interior, they are more likely to offer a higher price. Additionally, insurance companies may consider interior protection as a proactive measure, potentially lowering your premiums.
Enhanced Comfort: high-quality car interior paint ensures a comfortable and enjoyable driving experience. It shields your seats, dashboard, and other surfaces from the sun's harmful UV rays, preventing them from fading or cracking. This means you can enjoy a cooler, more comfortable ride on hot summer days.
Resale Potential: When it is time to sell your car, potential buyers will inspect the interior. A well-maintained and protected interior makes a positive impression, potentially leading to a quicker sale and a better price. It is a small investment that can yield significant returns when you decide to part with your vehicle.
Longevity: Interior protection for cars prolongs the lifespan of your vehicle's interior materials, preventing premature wear and tear. Think of it as an investment in the durability of your vehicle's cabin. By protecting your seats, carpeting, and trim, you are less likely to encounter issues like torn upholstery or faded surfaces. This saves you money on repairs and replacements down the road.
Why Choose Auto TintGard for Car Paint Protection?
When it comes to your vehicle's paint protection, you should never compromise on quality. Cheaper solutions may save you money at present but will require numerous touch-ups later on. This adds up quickly and costs you more in the long run. Instead, investing in good quality auto protection film is recommended. Auto TintGard provides professional auto paint protection services in Hoppers Crossing & other Western Suburbs Melbourne for all your needs. Choosing us is a smart choice and benefits in numerous ways:
Customised Solutions: We recognize that each car is as unique as its owner. Therefore, we do not offer a one-size-fits-all solution. Instead, we take the time to understand your specific needs and preferences. Whether you drive a sleek sports car, a rugged SUV, or a family sedan, our services can be personalised to meet your unique requirements.
Unmatched Expertise: Our team consists of more than just technicians. They are artists in the craft of paint protection. With a wealth of experience and a passion for perfection, they bring unmatched expertise to every project. Rest assured, your vehicle will be in the hands of true professionals who take pride in their work.
Premium Products: At our shop, we understand that your car deserves nothing but the best. That is why we are committed to using only the finest products available. Our dedication to quality means your car's paint will not only remain flawless but will also turn heads wherever you go.
Long-lasting Results: Anyone can install paint protection, but we go above and beyond. Our process uses only high-quality materials to deliver effective and long-lasting protection. Rest assured, your car will look showroom-fresh for years to come.
So if you seek experts for car paint protection applications, do not hesitate to get in touch with our team. To experience the finest auto care, you can call us on 03 8360 9723 / 0420 814 032 / 1300 922 204 or email us at sales@autotintgard.com.au.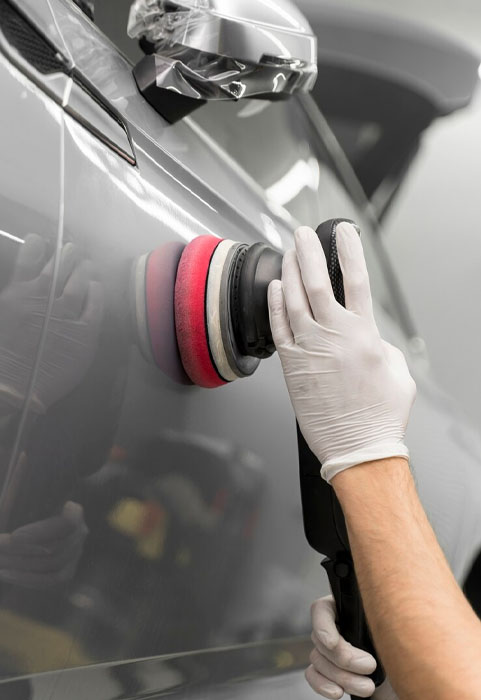 Would You Like To Reduce Sunglare And Heat In Your Car?