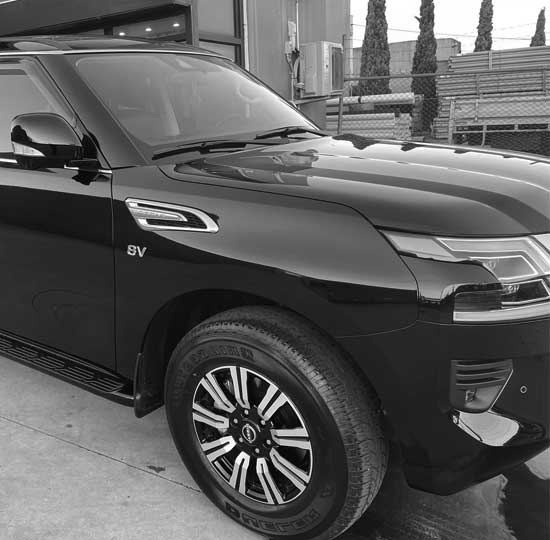 Get Car Window Tinting in Hoppers Crossing & Across Melbourne at Auto TintGard
Are you tired of exposing your vehicle to the scorching sun? Perhaps you wish to address the lack of privacy in your car. The harsh sun can damage the interiors and raise temperatures. Get car window tinting services in Hoppers Crossing & across Western Suburbs Melbourne with Auto TintGard. We have window tinting specialists who deliver high-quality work. Not only does window tint provide relief from the heat, but it also improves privacy on the road.
We aim to provide exceptional window tinting results. We have a team of professionals who can expertly tint a car in Melbourne without damaging the glass. With over 13 years of industry experience, we provide high-quality results every time. The ultimate goal is to ensure both your car's style and comfort are preserved.
Benefits of Having Tinted Car Windows
Window tinting for cars is advantageous. It goes beyond aesthetics—it also serves as an extra layer of protection and privacy. Here are four benefits of getting window tinting for your car:
Enhanced Privacy and Security : Window tinting films provide an additional layer of privacy, allowing you to feel more secure and comfortable inside your vehicle. The film reduces the visibility of the interior, making it harder for outsiders to see what's inside. This is especially valuable when you have valuable belongings in your car, as it deters potential thieves.
UV Ray Protection : Car-tinted windows block harmful ultraviolet (UV) rays from the sun. UV rays can cause fading and damage to the interior of your car, including the dashboard, seats, and upholstery. We use quality car window tint in Hoppers Crossing to protect you and your vehicle from harmful rays.
Heat Reduction : Auto window tinting can reduce the amount of heat that enters your car from the sun. This helps keep the interior cooler and helps the air con function better. Your driving experience becomes more comfortable, especially during hot Australian summers.
Glare Reduction and Safety : Automotive tint also reduces glare from the sun and oncoming headlights. You get improved visibility and reduce eye strain while driving. This is particularly important for safe driving, especially in bright conditions or at night.
We go the extra mile to ensure our clients receive exceptional car window tinting in Hoppers Crossing. Our skilled technicians use top-quality materials and advanced techniques to ensure a flawless application. We prioritise your preferences and work closely with you to achieve the desired level of shade and style.
Types of Window Tinting Films for Cars
Understanding the different types of window tinting films is highly important. Each type has a unique set of characteristics and advantages. Here are a few options that can transform not only your vehicle's appearance but also your comfort and safety:
Carbon Window Tinting Film : Carbon film is effective at blocking heat and UV rays, enhancing both comfort and privacy when driving. This particular film strikes a balance between style and functionality. As it does not contain metal, it will not disrupt your electronic devices.
Ceramic Window Tinting Film : For those who demand the best car window tinting, ceramic film is a top-tier option. Ceramic particles have excellent heat rejection and UV protection properties while maintaining optical clarity. It also does not interfere with electronic signals and offers a luxurious, non-reflective appearance.
Carbon CXP Tinting Film : This type of film combines exceptional heat rejection, UV protection, optical clarity, and signal-friendly properties. It sets a new standard for automotive tint, providing the perfect balance between performance and aesthetics for vehicle owners.
Process of Applying Car Window Tinting Film
Our team follows a meticulous process when applying the films. For us, precision matters. With our modern techniques, and high-quality film, rest assured, you will get the best results. Here is an overview of our process:
Preparation: Before applying any tinting film, your vehicle's windows are thoroughly cleaned and prepared. We leave no room for compromise when it comes to cleanliness. Each window is meticulously inspected, and any trace of dirt, dust, or contaminants is removed with precision.
Cutting and Fitting: We use precision engineering to tailor tint car windows in Hoppers Crossing & across Melbourne. This step involves precise measurements and cutting to ensure a perfect fit.
Application: The tinting film is then applied carefully to ensure a smooth and even finish. Bubbles, creases, and imperfections have no place in our work. We consider every inch of the film, ensuring that it aligns flawlessly with the window's surface.
Quality Check: No detail is too small to escape our attention. Our commitment to quality can be seen when we apply window tinting film in Melbourne. Only when we are confident that every window meets our high standards do we consider the project complete.
Get Quality Car Window Tinting From Us
Auto TintGard acknowledges that each customer's requirements are different. Our window tinting film in Hoppers Crossing, Melbourne is personalised to match your requirements perfectly. This is how we ensure 100% client satisfaction with our work:
Consultation: We discuss your preferences and your tint options.
Customisation: The car glass tinting film is then tailored to your specific needs.
Expert Installation: Our professionals will then ensure a flawless application.
Satisfaction Guaranteed: We will not rest until you are satisfied with the results.
Tint a Car with Confidence by Choosing our Professionals
Your car is an extension of your lifestyle and personality. Our professionals bring an unmatched level of passion and skill, ensuring that your windows receive the utmost attention to detail. It is our goal to provide our clients with the finest window tinting service in Hoppers Crossing & across Melbourne. When you choose Auto TintGard, you get:
Experienced Professionals
High-Quality Window Tinting for Cars
Customised Solutions
Guaranteed Satisfaction
So, reach out to us today and experience professional car window tinting at our shop. You can call us on 03 8360 9723 / 0420 814 032 / 1300 922 204 or email us at sales@autotintgard.com.au to schedule your appointment.
Good
Fast and reliable product and services at Auto Tintguard. The prices are very competitive if you looking to tint your car👌
Absolutely amazing service emailed them regarding quote to get windows tinted on my ute. They got back to me first thing with price and different grades of tint. Emailed back stating which grade I wanted and asked if I could book it in for Friday 9am. I arrived at 8.30am the guy explained what percentage tint I could go on front and back windows I went with 35% on front 20% on back. Once that was sorted they got it into the shed and after watching a few tic toks it was done. Drove out of there just after 10am very satisfied with how it turned out and even got a warranty on tint. Highly recommend going to these guys if you want your windows tinted at a great price and friendly staff
Great job done by the team, Generous service overall and competitive price
Manpreet Singh
2023-05-20
I have had window tinting and ceramic coating completed on multiple cars now from Auto TintGard. Service was efficient and priced competitively. I was also offered a free loan vehicle whilst my vehicle was in their workshop.
Great job done by the team, they also gave me a car to use while the job got done. Generous service overall and competitive price. 👍
Good service. Reasonable price...
Great job and friendly helpful staff.
Would You Like To Reduce Sunglare And Heat In Your Car?