Car Ceramic Coating in Hoppers Crossing, Melbourne—Auto TintGard
Auto TintGard is one of the leading auto ceramic coating specialists in Hoppers Crossing & across Western Suburbs Melbourne. We are the top choice for many car owners who want to keep their vehicles looking great. Bringing your car to us means getting the best quality care to keep it looking good for a long time. Our experts are very careful about choosing the best products for your car.
When you trust us with your car, you are putting it in the hands of people who know what they are doing. We want to ensure you are happy with our service. See us and find out why we are the preferred vehicle ceramic coating experts. Your car deserves the best, and that is what we deliver, every time.
How Does Ceramic Coating Work?
Ceramic coating is a revolutionary technology designed to protect and enhance your vehicle's appearance. It is like armour for your car, guarding it against the sun, dirt, and more. The liquid polymer solution forms a strong, invisible layer over your car's paint, providing long-lasting protection. With our automotive ceramic coating, your car will stay in great shape for years.
Understanding the ceramic paint protection process and following maintenance tips after is important. Our process has been designed to shield your car's paint from the elements and maintain its showroom-worthy appearance. Knowing how it works allows you to appreciate the value it adds to your vehicle. Additionally, our maintenance tips help you maintain the results for longer.
Here is a simplified breakdown of our process:
Surface Preparation: Before applying ceramic coating, your vehicle's surface is cleaned and decontaminated. This step ensures a pristine canvas for the coating.
Application: The coat is applied evenly to your car's surface using advanced techniques. It eventually bonds with the paint underneath, creating a durable protective layer.
Curing: After application, the ceramic coating undergoes a curing process, usually involving heat or infrared lamps. This solidifies the protective layer, making it resilient against external elements.
Enhanced Protection: Once cured, the ceramic coat acts as a shield against UV rays, oxidation, water spots, and contaminants. It also repels dirt and maintains your car's shine.
After applying ceramic paint protection, you need to maintain it for long-lasting results. Here are some maintenance tips shared by our experts:
Professional Inspection: Periodic inspections by professionals ensure that the ceramic coat continues to provide optimal protection.
Regular Washing: While a ceramic coat reduces the adhesion of dirt and grime, routine ceramic coating car wash is still essential to maintain the glossy finish.
Avoid Harsh Chemicals: Stick to pH-neutral or ceramic coating-safe car wash products to preserve the coating's integrity.
Gtechniq: The Ultimate Coating Solution
Auto TintGard uses premium products to deliver quality results, and one of our trusted brands is Gtechniq. Gtechniq is a huge name in the automotive coating industry. This solution is known for its exceptional performance and durability. Over the years, it has gained remarkable popularity among auto enthusiasts and car experts. Its reputation for providing numerous best features has made it a preferred choice in the local automotive community.
Some of Gtechniq's products we use are Crystal Lacquer, Crystal Serum Light, and Crystal Serum Ultra. We only use the finest products for your car. It is our ultimate goal to give you the satisfaction of driving a fully protected car. Gtechniq can work wonders on any kind of car, which has led to many people choosing it as their preferred coating option.
Benefits of Gtechinq Ceramic Coating
Numerous auto shops in Hoppers Crossings have embraced Gtechniq Ceramic Coating for a simple reason—it delivers exceptional results. This ceramic coating offers a range of benefits that set it apart from the competition. Some features include:
Unmatched Protection: Gtechniq Ceramic Coating forms a robust barrier against environmental contaminants, UV rays, and harsh weather conditions. This protective layer shields your vehicle's paintwork from fading and oxidation.
Glossy Finish: One of the standout features of Gtechniq is its ability to give a stunning finish to your car. It enhances the paint's depth and shine, making your vehicle look brand new.
Longevity: Gtechniq's durability is impressive, ensuring that your vehicle stays protected for an extended period. This is beneficial in a way that it reduces the need for frequent reapplication, saving you time and money.
Easy Maintenance: There's no need to hustle when it comes to maintaining the coating of your car with this product. The hydrophobic properties that it has repel water and dirt, making it easier to maintain a spotless appearance.
Eco-friendly: Specifically formulated to be non-toxic. We make sure our products contain no harmful chemicals that can contribute to air pollution or health concerns.
Why Choose Us for Ceramic Paint Protection in Hoppers Crossing?
When it comes to car ceramic coating service in Melbourne, Auto TintGard is your trusted partner. We offer a host of benefits that provide the best value for your money. Choosing our service provides you with the following benefits:
Expertise: We are seasoned professionals with extensive experience in automotive care, ensuring that your car receives the highest standard of protection.
Premium Products: We only use top-quality products like Gtechniq, which is known for their durability and performance.
Tailored Solutions: We customise the protective coating for cars to meet the unique demands of our customers and the Australian climate.
Professional Team: We have a team of professionals who handle the process, guaranteeing exceptional results.
Long-Lasting: With our ceramic coating, your car stays protected and looks great for years.
Visit Auto TintGard today and give your car the protection it deserves. Drive with confidence, knowing your vehicle has the best car ceramic coating service in Hoppers Crossing & across Melbourne. To schedule an appointment and receive a remarkable upgrade for your car, you can call us on 03 8360 9723 / 0420 814 032 / 1300 922 204 or drop us an email at sales@autotintgard.com.au.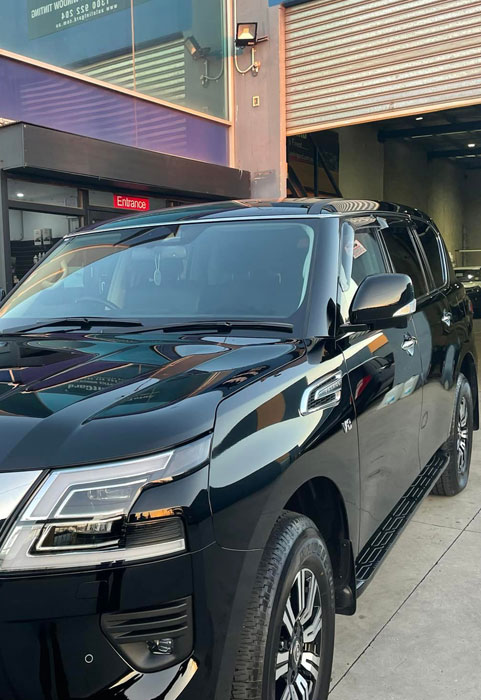 Would You Like To Reduce Sunglare And Heat In Your Car?